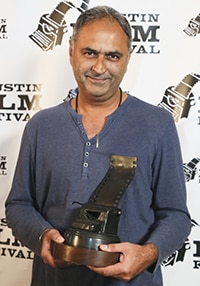 WRITER/DIRECTOR BIOGRAPHY
A professional Film and TV Writer/Director, Shani developed his early career directing a short film Vengeance, one of six finalists for an Oscar nomination and distributed by 20th Century Fox. Subsequently, he became Head of Production at Dandelion Distribution and String of Pearls plc where he directed Frightmares starring John Hurt.
As a director, Shani has worked for nearly every UK broadcaster including the BBC (Doctors, Grease Monkeys, Casualty, Holby City, winning a Peabody award as part of the BBC's DoNation Week for directing a Casualty/Holby special starring True Blood's Stephen Moyer); Mersey TV (Brookside, Grange Hill, Hollyoaks); Tiger Aspect/Sky (Le Hip Parade); Hewland International/Sky (Dream Team); Carlton TV (developed a sitcom Rags to Riches); Sony TV Asia (Soul Asia, Welcome to Suriname); Discovery ID/October Films (writing and directing the highest rated episode of their flagship series Obsession).
Shani has written and directed three feature films: AFTER MIDNIGHT (Hayley Mills, Saeed Jaffrey and Ian Dury); DOUBLE X – THE NAME OF THE GAME (Norman Wisdom, William Katt, Bernard Hill, Simon Ward and Gemma Craven); and the cult classic GURU IN 7, shot in London, Paris and Mumbai. He has developed several feature film screenplays with the UK Film Council, Telefilm Canada, Film 4, the Yorkshire Media Production Agency, Lifetime International, the Playboy Channel and Miramax. His most recent screenplay – 77 Minutes – was runner up at Slamdance in 2015 and beat 2000 other entries to win Best Horror Screenplay at the Austin Film Festival.
Having written and directed award winning corporate videos for WH Smith and British Rail, Shani also lectures at the Met Film School in Ealing Studios, he has directed commercials in Kuala Lumpur and TV drama series: Doctori de Mame for Media Pro in Bucharest; four seasons of Makutano Junction for Mediae in Kenya; and has recently returned from three months directing Mpeke Town, a 13-part drama series again for Mediae in Uganda.