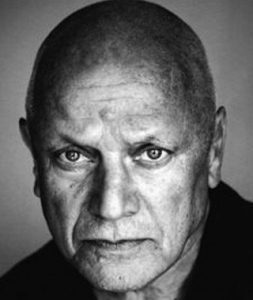 Steven Berkoff was born in Stepney, London. After studying drama and mime in London and Paris, he entered a series of repertory companies and in 1968 formed the London Theatre Group. Their first professional production was In The Penal Colony, adapted from Kafka's story. East, Steven's first original stage play, was presented at the Edinburgh Festival in 1975. Other original plays include Messiah: Scenes from a Crucifixion, The Secret Love Life of Ophelia, West, Decadence, Greek, Harry's Christmas, Lunch, Acapulco, Sink the Belgrano!, Massage, Sturm und Drang and Brighton Beach Scumbags, 6 Actors in Search of a Director, Actor's Lament and a series of plays performed under the umbrella title 'Anarchy and Relgion' – How to Train an Anti-Semite, Guilt, Roast, Gas and Line-up.
Among the many adaptations Berkoff has created for the stage, directed and toured are The Trial and Metamorphosis (Kafka), Agamemnon (after Aeschylus), and The Fall Of The House Of Usher (Poe). He has also directed and toured productions of Shakespeare's Coriolanus (also playing the title role), Richard II (for the New York Shakespeare Festival), Hamlet and Macbeth as well as Oscar Wilde's Salomé. He directed and performed in Massage in Edinburgh and Los Angeles, and has performed One Man and Shakespeare's Villains at venues all over the world. His production of On the Waterfront had a critically acclaimed run in the West-End. His plays and adaptations have been performed in many languages and many countries including Japan, Germany, Greece, Israel, Australia and America. His adaptation of Oedipus was recently performed at the Spoleto Festival in South Carolina following a run at the Edinburgh Festival.
Films Steven has appeared in include A Clockwork Orange, Barry Lyndon, The Passenger, McVicar, Outlands, Octopussy, Beverly Hills Cop, Rambo, Revolution, Under the Cherry Moon, Absolute Beginners, The Krays, Fair Game, Another 9 ½ Weeks, Legionnaire, Rancid Aluminium, Forest of the Gods, The Flying Scotsman, PU-239 and 44-inch Chest. He directed and co-starred with Joan Collins in the film version of Decadence. More recently in 2010 he appeared in The Tourist with Johnny Depp and Angelina Jolie; and in 2011 David Fincher's Girl with the Dragon Tattoo.
Television productions include: West (Limehouse/Channel 4), Metamorphosis (BBC), Harry's Christmas (Limehouse), Silent Night (Initial/Channel 4), and Edgar Allan Poe's The Tell-Tale Heart (Hawkshead/Channel 4). Television credits include War and Remembrance, Michaelangelo – A Season of Giants, Sins, Attila, In the Beginning, Beloved Enemy, The Intruders, New Tricks, Hotel Babylon and The Borgias.
He has published a variety of books, such as the short story collections Graft: Tales of an Actor (Oberon Books) and Gross Intrusion (Quartet Books), the production journals I am Hamlet, Meditations on Metamorphosis (Faber and Faber), Coriolanus in Deutschland (Amber Lane Press), and A Prisoner in Rio (Hutchinson); his autobiography Free Association (Faber), a photographic history The Theatre of Steven Berkoff (Methuen), and travel writing, essay and poetry collections Shopping in the Santa Monica Mall (Robson Books), America (Hutchinson), and Overview (Faber). Faber has published Berkoff's collected plays in three volumes, as well as The Secret Love Life of Ophelia. Requiem for Ground Zero (Amber Lane Press), Steven's tribute to September 11th in verse, coincided with a run at the Edinburgh Festival, followed by a one-year anniversary performance in London. His most recent books include My Life in Food (ACDC) a collection of paeans to food and comfort; You Remind me of Marilyn Monroe charting personal thoughts pains and passions in verse; his memoir Diary of a Juvenile Delinquent; and in 2011 – Tales from an Actor's Life, semi-fictional stories detailing the nuances of this profession. His collection of One Act Plays were published by Methuen in 2013.
Steven Berkoff has completed a variety of voiceover work and books on tape, including Kafka's Metamorphosis and The Trial for Penguin Audiobooks and Henry Miller's Nexus for Prelude Audio Books. Radio productions include the title role in Macbeth (Radio 4; available through Penguin Audiobooks) and his live music debut as the MC in Cabaret (Radio 2). He recorded An Actor's Tale, a selection of his short stories, for Radio 4.
Steven has exhibited his photographs of London's old East End at several galleries in London. Many of his books and DVD's can be found at www.stevenberkoff.com.