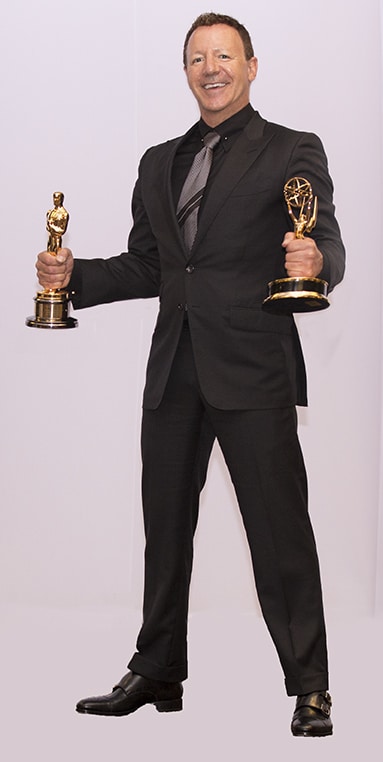 Academy Award Winner ® and Emmy Winner ® Phillip B. Goldfine has produced over 100 film and television projects. A life long devotee of the Entertainment Industry, he began his motion picture and television career as both a Development and Production Executive at major film & television companies FBC (Fox Broadcasting Corp.) New Line Cinema and Trimark Pictures.
After serving as an executive on such Studio titles as THE MASK and DISTURBING BEHAVIOR and spearheading Jim Carrey's first dramatic role, DOING TIME ON MAPLE DRIVE, he sequed to producing and has never looked back.
As a Film and Television Producer he he has worked on Studio Films for every Major Film Studio and Television Network including Warner Bros., Disney, MGM, Universal, Twentieth Century Fox, Paramount and Sony as well as the major networks including CBS, Reelz Channel, A&E Television networks, National Geographic, Netflix and others.
He has produced entertainment in every genre including but not limited to: Comedy, Action, Thrillers, Drama, Science Fiction and Documentaries. Some of those titles include FIRST KID for Disney, EXIT WOUNDS, CHRISTMAS STORY 2 and DUKES OF HAZZARD: THE BEGINNING as well as the LOST BOYS series of films for Warner Bros. In addition, some of his credits include popular films like DISTURBING BEHAVIOR for MGM and this year Lion's Gate released the popular Christmas film SAVING CHRISTMAS, while the Iconic Shirley Maclaine starred in THE LAST WORD.
Over the past year he has produced 15 motion pictures that will debut in 2018 and 2019. Some of those titles include Damascus Cover, Pony With A Broken Wing, Edge of Fear, Darc and Battle Drone.
Mr. Goldfine has also produced numerous television series including the popular Reelz Channel show TRUE JUSTICE as well as National Geographic's THE SEARCH FOR OSAMA BIN LADEN. This year he produced Age of the Living Dead which debuted on the Fox Action Channel.
In 2014 he Executive Produced the short form documentary THE LADY IN NUMBER 6: MUSIC SAVED MY LIFE which won the coveted Oscar.
Mr. Goldfine is an elite swimmer going for a record and is a loving father. Both he and his family reside in Los Angeles, California.